August 16 - 20, 2023
Corn-on-the-Cob Days is a five-day celebration of "Everything Corn" that is unique to Plainview. Sponsored by the City of Plainview and coordinated by the Plainview Lions Club—with support from Lakeside Foods, Inc., Foresight Bank, Peoples State Bank, Bennett's Food Center, Plainview Milk Products, and many others—-this is the big event for the year. Starting with a praise fest the first evening of the festival and ending with a grand parade with over 100 entries, Corn-on-the-Cob Days draws up to 6,000 visitors to Plainview.
To become involved, contact the Email Lions Club Event Coordinator.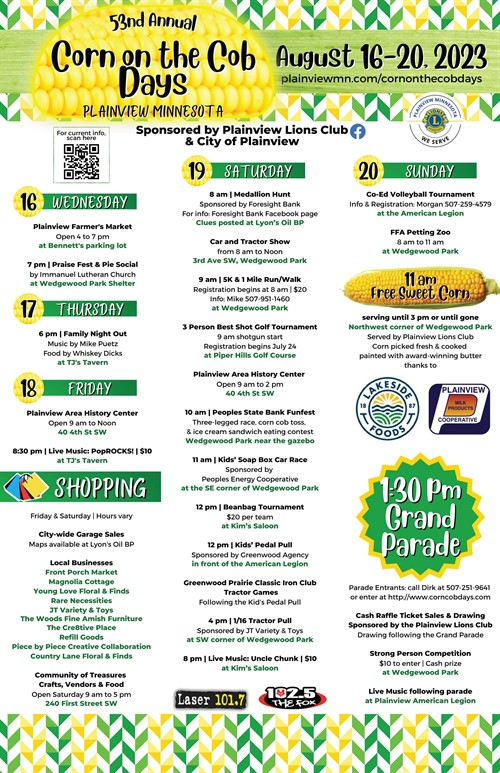 Helpful Links
Parade Entry Form
https://corncobdays.com/signup/
Facebook Event:
Fun Facts
Between 5,000 and 6,000 visitors partake in the fun on Sunday.

Between 8 and 10 TONS of corn are served in the 4 hour period, from 11:00 am - 3:00 pm.

The corn is picked fresh that morning.

The corn is steam cooked at 212 degrees for about 45 minutes at Lakeside Foods in a giant basket called a "retort".

It takes approximately $800-$1,000 worth of natural gas to cook a festival's worth of corn for the Sunday of Corn on the Cob Days.

Originally, Corn on the Cob Days used to be called 'Fall Festival', then 'Golden Harvest Days', until becoming 'Corn on the Cob Days'.